As we go about our daily lives, it's easy to overlook the importance of monitoring our blood pressure. However, keeping track of your blood pressure is a crucial step in maintaining good heart health and preventing potential cardiovascular issues. In this article, we will discuss when and how to take your blood pressure to keep an eye on it and share this information with your doctor.
Feel welcome to access our complimentary Blood Pressure Monitoring Chart, designed for recording your measurements and sharing them with your healthcare provider. You can download here: BLOOD PRESSURE CHART
Why is Monitoring Your Blood Pressure Important?
Blood pressure is the force that your blood exerts on the walls of your arteries as it flows through them. High blood pressure, also known as hypertension, is a common condition that can strain your heart, arteries, and other organs, increasing the risk of serious health problems such as heart disease, stroke, and kidney disease.
Monitoring your blood pressure regularly allows you to keep track of any changes and catch potential issues early on. By doing so, you can work with your healthcare provider to develop a plan to manage your blood pressure and reduce your risk of developing heart-related problems.
When Should You Take Your Blood Pressure?
The frequency of blood pressure monitoring depends on several factors, including your age, overall health, and any existing medical conditions you may have. Here are some general guidelines:
Annual Check-ups:
It's recommended to have your blood pressure checked at least once a year during your regular check-up with your healthcare provider, even if you have no known risk factors for high blood pressure. This allows your doctor to establish a baseline and detect changes over time.
Home Monitoring:
If you have a history of high blood pressure or other risk factors such as a family history of heart disease, your doctor may recommend monitoring your blood pressure at home. Home monitoring can provide a more comprehensive picture of your blood pressure patterns, as it considers the natural variations that can occur throughout the day. Your doctor can guide you on how often and when to measure your blood pressure at home.
Post Illness or Medication Changes:
If you have recently recovered from an illness or started a new medication that may affect your blood pressure, checking it to ensure it's within a healthy range is good.
Symptoms of High Blood Pressure:
If you experience severe headaches, shortness of breath, chest pain, or vision changes, it's important to check your blood pressure and consult your doctor promptly.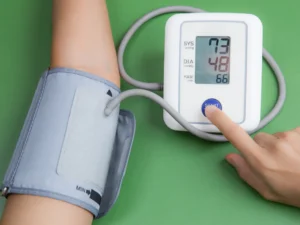 How to Take Your Blood Pressure
Taking your blood pressure correctly is essential to obtain accurate results. Here's how you can do it:
Use a reliable blood pressure monitor: Purchase a good-quality, validated blood pressure monitor that fits your arm size. Manual or digital monitors are available, but digital monitors are generally easier to use.

Sit in a quiet, comfortable space: Find a quiet place to sit and relax for a few minutes before taking your blood pressure. Avoid caffeine, smoking, and exercise for at least 30 minutes before measuring.

Follow the instructions: Read and follow the instructions with your blood pressure monitor carefully. Ensure that the cuff is positioned correctly on your bare upper arm at heart level and that your feet are flat on the ground.

Take multiple readings: Take two to three readings, with a one-minute gap between each reading, and record the results. Discard the first reading, as it may not be accurate. Take the average of the remaining readings as your blood pressure measurement.

Share the results with your doctor: Record the date, time, and readings in a log or on a mobile app, and share the results with your doctor during your regular check-up or as advised.
Conclusion
Regularly monitoring your blood pressure is a simple yet essential step for maintaining heart health. You can detect changes early and manage your blood pressure by tracking and sharing your readings with your doctor. Follow recommended guidelines, use a reliable monitor, take multiple readings, and record accurately to proactively care for your heart and lower the risk of serious cardiovascular issues.
If you have high blood pressure or heart disease risk factors, collaborate with your healthcare provider for a personalized plan. This might involve lifestyle adjustments like a healthy diet, exercise, stress management, limited alcohol, and quitting smoking. Medication could be prescribed to control blood pressure when needed.
In conclusion, monitoring blood pressure is pivotal for heart health. Regular tracking and discussion with your doctor lead to effective management and reduced heart-related risks. Prioritize this proactive measure for lasting heart health.
Free Download of our Heart Matters BLOOD PRESSURE CHART