Takotsubo Cardiomyopathy is a term that may sound unfamiliar, but it represents a condition that deserves our attention, especially in the context of women's heart health. Sometimes called "broken heart syndrome," Takotsubo Cardiomyopathy is a unique and misunderstood cardiac condition predominantly affecting women. In this article, we'll delve into the intricacies of Takotsubo Cardiomyopathy, exploring its causes, symptoms, diagnosis, treatment, and significance in women's cardiovascular well-being.
What is Takotsubo Cardiomyopathy?
Takotsubo Cardiomyopathy is a temporary and reversible condition that affects the heart's muscular function. It is characterized by a sudden weakening of the heart's left ventricle, the chamber that pumps oxygen-rich blood throughout the body. This weakening results in an unusual and distinctive shape of the left ventricle, resembling a narrow-necked Japanese octopus trap, from which it derives its name – "Takotsubo." It's crucial to note that this condition differs from a heart attack (myocardial infarction) caused by blocked arteries.

Octopus traps, or 'Takotsubo' pots in Japanese, exhibit a distinct shape featuring a narrow opening designed to ensnare octopuses securely. The wider section of these pots takes on a characteristic resemblance to the swollen body of a balloon. A similar analogy can be drawn to the shape of the heart's left ventricle during a Takotsubo Cardiomyopathy episode, where it undergoes a transient alteration from its typical cylindrical or elliptical form. In this condition, the heart's apex, the lowermost portion of the ventricle, tends to expand outward, while the upper part may maintain its normal shape or exhibit minor changes. This unique comparison between Takotsubo Cardiomyopathy and the 'Takotsubo' pot highlights the striking visual similarity.
Who Does it Affect?
While Takotsubo Cardiomyopathy can affect anyone, it's more commonly observed in women, particularly postmenopausal women. This gender disparity raises questions about the role of hormonal factors in developing the condition. However, it's essential to recognize that men and younger women can also experience Takotsubo Cardiomyopathy.
What Causes Takotsubo Cardiomyopathy?
The precise cause of Takotsubo Cardiomyopathy is still not fully understood. However, it is often triggered by intense emotional or physical stress. Emotional triggers can include losing a loved one, a sudden shock, or acute distress. Physical stressors may involve severe illness, surgery, or other medical procedures. The surge of stress hormones during these events can temporarily "stun" the heart, leading to the characteristic weakening of the left ventricle.
Symptoms of Takotsubo Cardiomyopathy
The symptoms of Takotsubo Cardiomyopathy can mimic those of a heart attack and may include chest pain, shortness of breath, irregular heart rhythms, and fainting. It's essential not to dismiss these symptoms, especially in individuals who have experienced significant stress or emotional trauma.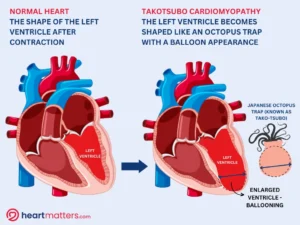 Emotional Stress and the Heart: A Complex Connection
Takotsubo Cardiomyopathy is unique in its strong association with emotional stress or trauma. It is often triggered by intense emotional events, such as losing a loved one, relationship conflicts, financial stress, or other psychologically distressing experiences. In some cases, the emotional stress response can lead to a surge in stress hormones like adrenaline, temporarily weakening the heart muscle and causing the abovementioned symptoms.
It's crucial not to dismiss these symptoms, especially in individuals who have experienced significant stress or emotional trauma, as early diagnosis and management are vital. While Takotsubo Cardiomyopathy is typically reversible and has a more favorable prognosis than other cardiac conditions, prompt medical attention is essential to rule out other cardiac problems and initiate appropriate treatment.
Recognizing the symptoms of Takotsubo Cardiomyopathy and understanding its connection to emotional stress are crucial steps in ensuring the timely and appropriate care of individuals experiencing this condition. If you or someone you know is experiencing chest pain, shortness of breath, irregular heart rhythms, or fainting, especially after a stressful event, seek immediate medical attention to assess and address the situation effectively.
Diagnosis and Treatment
Diagnosing Takotsubo Cardiomyopathy involves a comprehensive approach, combining elements like medical history, physical examination, and a range of diagnostic tests, including electrocardiograms (ECGs), echocardiograms, cardiac MRI, and coronary angiography. The critical aspect is distinguishing it from a heart attack as the treatment strategies diverge. To rule out coronary artery blockages, a coronary angiogram is often necessary.
The encouraging news is that Takotsubo Cardiomyopathy is frequently reversible with appropriate care. Treatment primarily involves addressing the underlying stressors, delivering heart-supportive care, and managing associated symptoms or complications. Over time, heart function typically improves, and most individuals experience a full recovery.
To aid in recovery, a few key classes of medicines are frequently used, including:
ACE Inhibitors (ACEIs): ACE inhibitors are commonly prescribed to manage Takotsubo Cardiomyopathy. They help reduce blood pressure and decrease the workload on the heart by inhibiting the activity of angiotensin-converting enzymes. This can contribute to the recovery of heart function.
ARBs (Angiotensin Receptor Blockers): ARBs are another class of medications that may be used to manage Takotsubo Cardiomyopathy. They work by blocking the effects of angiotensin II, which can help relax blood vessels and lower blood pressure.
Beta Blockers: Beta blockers are often prescribed to slow the heart rate and reduce the heart's workload. They can help manage symptoms like irregular heart rhythms and chest pain and support the heart in its recovery process.
Diuretics: In some cases, diuretics may help remove excess fluid from the body. This can be beneficial if fluid retention contributes to symptoms such as shortness of breath or swelling.
Stress management is a critical component of treatment, and providing support for addressing the underlying emotional stress or triggers is essential. This can encompass counseling, stress reduction techniques, or lifestyle adjustments to minimize stressors.
Prognosis
The prognosis of Takotsubo Cardiomyopathy is generally reassuring in most cases, especially with prompt medical treatment. Although it can mimic a heart attack in its symptoms, this condition typically results in a positive outcome. With appropriate care and management, including medications to support the heart and address underlying factors like emotional stress, most individuals experience a significant improvement in heart function. In many instances, heart function returns to normal, and the heart's pumping capacity is fully restored. 
Emphasizing Emotional Well-being in Women's Heart Health
The prevalence of Takotsubo Cardiomyopathy among women, especially postmenopausal women, underscores the intricate link between emotional well-being and heart health. While the exact mechanisms are not yet fully understood, it's clear that emotional and physical stress can have a profound impact on the cardiovascular system.
Recognizing the significance of stress management, emotional support, and self-care is vital to women's heart health initiatives. Addressing stressors, seeking emotional support, and adopting healthy coping strategies can help prevent Takotsubo Cardiomyopathy and contribute to overall cardiovascular well-being.
Conclusion
Takotsubo Cardiomyopathy, or "broken heart syndrome," is a remarkable cardiac condition predominantly affecting women. While it often emerges amid intense emotional or physical stress, it is a temporary and reversible condition. Prompt diagnosis and appropriate care can lead to a full recovery. Understanding Takotsubo Cardiomyopathy reminds us of the intricate connection between our emotions and heart health. It emphasizes the importance of managing stress and prioritizing emotional well-being, particularly for women more susceptible to this condition. It serves as a compelling reminder that caring for our hearts extends beyond physical health; emotional well-being plays a crucial role in maintaining a healthy heart.