Atherosclerosis, often referred to as the silent enemy, is a progressive and stealthy cardiovascular disease that can have a profound impact on our health. This intricate condition involves the gradual buildup of plaque within our arteries, gradually narrowing and stiffening these vital blood vessels. In this article, we'll delve into the intricate details of atherosclerosis, exploring its causes, progression, and most importantly, steps we can take to prevent its onset.
With cardiovascular disease continuing to represent the leading cause of morbidity and mortality in our community, having a deeper understanding of its causes is important to better empower us to take action. At the heart of this pervasive health issue lies a process called atherosclerosis. Atherosclerosis, derived from the Greek words "athero" meaning gruel or paste and "sclerosis" meaning hardening, is a complex and progressive condition that affects our arterial walls. It involves the gradual buildup of plaque, consisting of cholesterol, fats, calcium, and other substances, within the arteries. This buildup narrows the arteries and restricts the smooth flow of blood, eventually leading to numerous cardiovascular complications.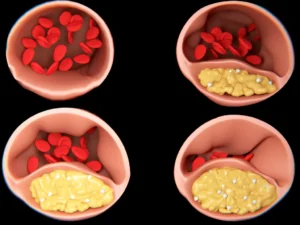 The plaque, consisting of cholesterol, fat, and cellular debris, narrows the arterial lumen, potentially compromising blood flow and increasing the risk of cardiovascular events
By unraveling the mechanisms and impact of atherosclerosis, we can gain valuable insights into how to prevent, manage, and potentially reverse this disease, thereby safeguarding our cardiovascular well-being.
What is Atherosclerosis?
Atherosclerosis is a chronic disease characterized by the gradual buildup of plaque within our arteries. Plaque is composed of fatty substances, cholesterol, calcium, cellular waste, and other substances found in our blood. Over time, this plaque hardens and narrows the arteries, impeding blood flow to vital organs, including the heart and brain.
The role of inflammation
In addition to understanding the process of atherosclerosis, it is important to recognize the significant role inflammation plays in the buildup of plaque within the arteries. Inflammation is a natural response of the body to injury or infection, characterized by redness, swelling, and heat. However, when it comes to atherosclerosis, chronic inflammation can have detrimental effects.
The inner lining of the arteries, called the endothelium, is a dynamic interface between the bloodstream and the vessel wall. It plays a crucial role in maintaining the health and function of the arteries. When the endothelium becomes damaged or dysfunctional due to factors such as high blood pressure, high cholesterol levels, or smoking, it triggers an inflammatory response.
Inflammatory cells, such as macrophages and white blood cells, are recruited to the site of endothelial injury. These cells release chemicals and enzymes that promote the accumulation of cholesterol and other lipids, leading to the formation of fatty streaks within the arterial wall. Over time, these fatty streaks evolve into more complex plaques, characterized by the deposition of cholesterol, calcium, and cellular debris.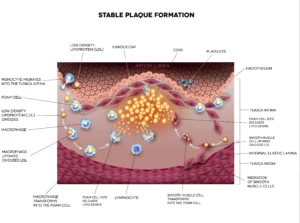 The intricate process of atherosclerosis progression. Inflammatory cells infiltrate the arterial wall, contributing to the formation of atherosclerotic plaque (highlighted in yellow). The presence of these immune cells reflects a crucial phase in the development of vascular disease, potentially leading to compromised blood flow and cardiovascular complications.
Causes of Atherosclerosis
Considerable information has been gathered regarding the causes of atherosclerosis, shedding light on its progression. While the exact mechanisms involved may still present some complexities, numerous well-established risk factors have been identified. These risk factors serve as the foundation for improving outcomes and managing the disease effectively. By addressing and managing these known risk factors, we can make significant strides in enhancing cardiovascular health and mitigating the impact of atherosclerosis. These risk factors include:
High blood pressure: High blood pressure can damage the walls of the arteries, making them more susceptible to plaque buildup.
High cholesterol: Elevated cholesterol levels, particularly LDL (low-density lipoprotein) cholesterol, commonly known as "bad" cholesterol, have been strongly associated with an increased risk of plaque accumulation in the arteries. However, it's important to note that the impact of cholesterol on atherosclerosis is not limited to LDL cholesterol alone. Other lipid particles, including triglycerides and lipoprotein (a), have also been linked to the development and progression of the disease.
Smoking: The detrimental effects of smoking extend beyond the lungs. Smoking damages the delicate inner lining of the arteries, known as the endothelium, making it more susceptible to inflammation and the formation of plaque. The toxic chemicals in tobacco smoke also promote the buildup of fatty deposits within the arterial walls, narrowing the arteries and impeding blood flow.
Diabetes: Individuals with diabetes are at a higher risk of developing atherosclerosis due to the adverse effects of chronically elevated blood sugar levels on blood vessels. High blood sugar damages the endothelium, leading to inflammation and the initiation of plaque formation. Diabetes also disrupts the balance of cholesterol and lipids in the bloodstream, contributing to the progression of atherosclerosis.
Family History: A family history of atherosclerosis serves as a significant risk factor for developing the condition. Genetics play a role in determining how our bodies process and metabolize cholesterol, as well as how susceptible we are to inflammation and the formation of plaque. If a close family member, such as a parent or sibling, has a history of atherosclerosis, the risk of developing the condition increases. While we cannot modify our genetic predisposition, understanding our family history can help us take proactive steps to manage other modifiable risk factors and adopt a heart-healthy lifestyle. More details on caradiovascular risk factors can be found here.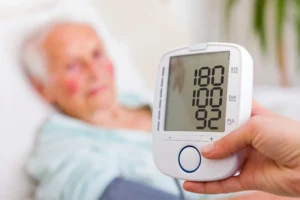 Increased blood pressure (depicted by red arrows) exerts strain on the vessel walls, leading to vessel thickening and reduced elasticity. This condition, known as hypertension, can contribute to cardiovascular risk and complications, highlighting the significance of blood pressure management in maintaining vascular health
Symptoms of Atherosclerosis
In the early stages, atherosclerosis may not cause any symptoms. However, as the condition progresses, symptoms may include:
Chest pain or discomfort: This is often a sign of angina, a condition in which the heart does not receive enough blood and oxygen.
Shortness of breath: This can occur during physical activity or at rest.
Fatigue: This may be a sign that the heart is not working efficiently.
Numbness or weakness: This may occur in the legs or arms if the arteries in these areas are affected.
Prevention: A Shield Against Atherosclerosis
Fortunately, atherosclerosis is not an inevitable fate. Here are proactive steps to shield ourselves:
Heart-Healthy Diet: Opt for a diet rich in fruits, vegetables, whole grains, lean proteins, and healthy fats. Limit saturated and trans fats.

Regular Exercise: Engage in regular physical activity to maintain a healthy weight, boost circulation, and strengthen the cardiovascular system.

Tobacco Avoidance: Quit smoking to significantly lower the risk of atherosclerosis and its complications.

Blood Pressure Control: Monitor and manage blood pressure through a balanced diet, exercise, and, if necessary, medication.

Cholesterol Management: Keep cholesterol levels in check with diet modifications, exercise, and, if prescribed, cholesterol-lowering medications.

Stress Reduction: Chronic stress can contribute to inflammation. Practice stress-reduction techniques such as meditation, yoga, or deep breathing.
Other interventions
Treatment for atherosclerosis depends on the severity of the condition and the symptoms. In addition to lifestyle managment and controlling underlying risk factors, your doctor may recommend prescription medication to help lower blood pressure and cholesterol levels. In other cases, small devices called stents may be used to prop open a blocked artery or coronary artery bypass graft surgery (CABG) may be necessary, often to treat multiple blockages. More details on CABG can be found here.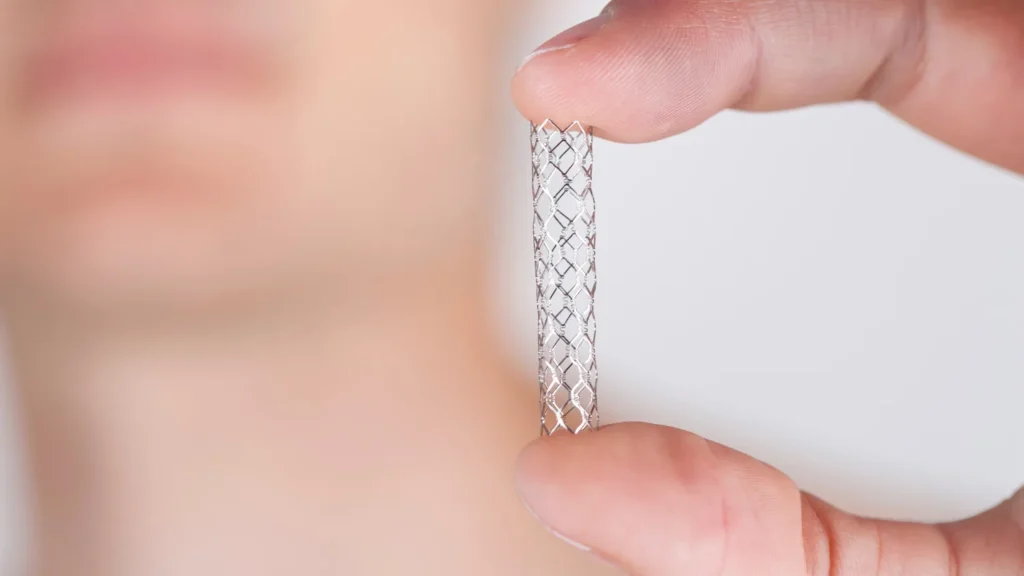 Stents are tiny devices used to prop open blockages within the arteries of the heart that are causing symptoms or have caused an acute heart attack whereby the artery becomes blocked due to blood clot formation. 
In conclusion, atherosclerosis is a serious health condition that can lead to heart attack, stroke, and other cardiovascular diseases. Maintaining a healthy lifestyle and managing risk factors such as high blood pressure and cholesterol can help reduce the risk of developing atherosclerosis. If you experience symptoms of atherosclerosis, it is important to speak to a healthcare professional who can help diagnose and treat the condition. Please visit our dedicated coronary artery disease page for further information by clicking here.